Futanari, My Hot Wife and the Cuckold Bundle: Futagirl on Girl, Hotwife Swinging with Transsexuals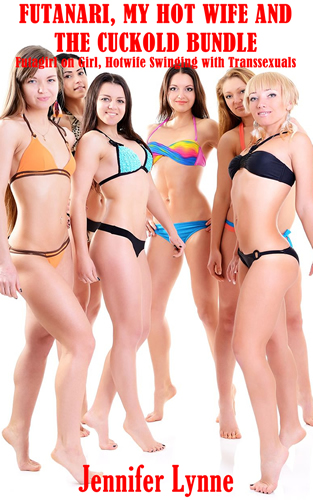 The Hot Wife, the Shemale & the Wardrobe trilogy all together in one hot, steamy bundle! Experience the adventures of Lydia, Chris and their futagirl live-in lover, Misha back to back!
An amazingly hot futagirl trilogy following the sexy adventures of a hot young couple and their stunning, incredibly naughty futanari playmate. Join Lydia, Chris and Misha as they explore each other's bodies and partake in steamy threesomes, erotic BDSM action and a transsexual hot tub orgy that has to be read to be believed!
- In the first part of this unbelievably trilogy - suspecting his wife of being unfaithful, Chris hides in the bedroom closet in order to catch her red handed. What he witnesses is his hot wife Lydia seducing her sexy new friend, Misha who unbeknownst to Lydia is a sexy futagirl with a nine inch fully functional surprise!
- In part two, transsexual Misha has moved in with Lydia and cuckold Chris. Together, they take full advantage of the basement play dungeon that Lydia had had Chris build, taking turns to play with Chris and the dungeon equipment – a turn of events that Chris is more than delighted with, although they keep his manhood confined for much of the time.
-In the third part, Chris and Lydia's live-in futa lover has invited a dozen of her hottest transsexual friends over to party in the oversized hot tub. Before long the night turns hot and sexy as all of the transgender girls, Misha, Lydia and Chris join in with the fun - clothes and inhibitions shed in one big and incredibly wanton free-for-all.
EXPLICIT: this bundle contains 21,000 words of incredibly erotic hot wife swinging, cuckold husband, futanari ménage, BDSM, futagirl on girl and hot transsexual action.
$3.99
Words: 21,000