Ultimate Taboo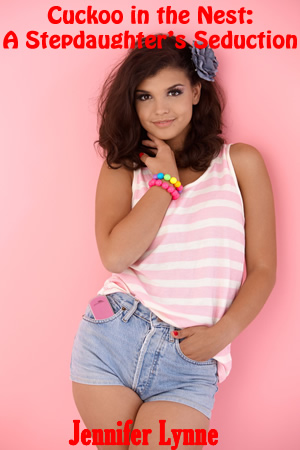 "Don't you want to be the first?"
Michelle began flaunting her hot, teenaged body the minute she hit eighteen – especially so in front of her older stepfather and stepbrother.
Things come to a head (in more ways than one!) one night when Michelle catches her stepbrother, Pete masturbating whilst spying on her bathing nude in the hot tub. Seizing her opportunity, she seduces him into being her first.
Their stepmom arrives home early and catches Michelle and Pete in the act – so Michelle seduces her too. And when their stepfather comes home unexpectedly and catches his new, young wife fucking his stepson and stepdaughter, what else is there for him to do but to join in with the fun?
WARNING - EXPLICIT TABOO: This unbelievably sexy story contains 8,000 words to arouse your imagination with the hottest, most graphic descriptions of pseudo-incest, masturbation, dirty talk, voyeurism, lesbian, cuckolding, exhibitionism and group sex between a not so innocent first time girl and her step family.
$2.99
Words: 8,000
Too Taboo for Kindle, Kobo, Apple etc - but you can get yourself a copy from here: Adultebooks
Page 1